Premium Nic Salt
As with our other premium e-juice lines, the nic salts we carry are stocked based on customer recommendations and our own thorough testing to accommodate the needs of our customers who prefer pod systems.
Showing all 6 results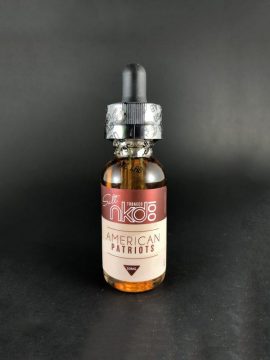 American Patriots by Naked 100 Salt The NEW American Patriot Salt Based Nicotine e liquid is a classic, full cut, rich, American tobacco flavor that is sure to satisfy. Salt Based Nicotine vape is a satisfying vape at low wattage resulting in a smoother vaping experience. American Patriots evolves its rich American tobacco flavor into a pod friendly recipe based on salt nicotine. Mouth to lung vapers and pod mod enthusiasts can now experience their bold tobacco in higher milligrams without the harshness. NKD100 Salt E Liquid delivers a new era for the fan of the leaf. All other tobacco flavors are on notice American Patriots NKD 100 Salt E Liquid has arrived to dominate.Naked 100 e liquid brings the "full on" flavor to their Salt NKD 100 line of Salt Based Nicotine. **Warning: Not For Sub-Ohm Use** All 30mL Nic Salt bottles are available in 35 and 50 milligram levels.