5 Ways To Save Money On Purchases From The Vapor Lab
Next time you're at The Vapor Lab, confirm we have your birthday in our system, and if we don't, have them add it (just ask whoever is checking you out)
That's it! With these 5 simple items you'll easily maximize your saving opportunities!
If you're interested in learning more about why, when, and how you'll save with us, please read on…
---
The Details: How Completing These Five Action Items Will Save You Money
Savings Club (Free) Saving Opportunities
Check-ins:
Every time you check into the texting kiosk at The Vapor Lab's cash register, you earn $1 in vape cash coupons (there is no purchase required to check in). These cash coupons are generated and available for use after the 5th, 10th, 15th, 20th, and 25th check-in. For example, on your 5th check-in you earn $5 off your next purchase, on your 10th check-in you earn $10 off your next purchase, and so on. After your 25th check-in, the check-in process starts over.
If you visit The Vapor Lab 3x weekly for 1 year, you will earn $450 in free vape cash coupons. Here's the math:
– 3 check-ins weekly x 52 weeks = 156 check-ins annually
– Each cycle of 25 check-ins is worth $75 in vape cash ($5+$10+$15+$20+$25 = $75)
– You will complete six complete check-in cycles each year (156/25 = 6.24)
– You will receive $450 in vape cash in one year (6 check-in cycles x $75 = $450)
Text Specials:
Every two months (or so) we will send out coupon codes for discounts and special pricing, but we only send them to Savings Club Members. For example, often we'll run a Savings Club special for two days where all PG/VG base is 40% off. Another example is when we ran 25% off all in-stock SMOK products for three days. While not everyone will take advantage of each and every Text Special we run, it is reasonable to expect that during the course of a year, the average customer saves approximately $60 as a result of these specials.
Birthday Savings Opportunities
Everyone deserves a cool gift for their birthday…especially our customers! When you give us your email address, we will place you on our birthday coupon list. 7 days before your birthday, we will email you a birthday gift coupon that will be a coupon code that's good for a significant percentage off (or free) something in the store.
For example, right now we are giving 50% off any size bottle of PG/VG base. In the past, we've given away coupon codes for a free 30mL Premium Juice bottle and 50% any mod in the store. You can count on your birthday savings opportunity to be about $18 per year.
Facebook Page Savings Opportunities
Each morning at 10:35AM we publish a post on our Facebook Page promoting our "Flavor of the Day". The "Flavor of the Day" is 1 of our 31 pre-steeped, premium juice line flavors that we discount 30% so for that day only the price of the 30mL bottle goes from $18 to $12, so a savings of $6 per bottle. In this example, let's say that of the 31 pre-steeped, premium juice line flavors, there are two flavors that you really love. Each flavor goes on sale only once per month, so when you see they're on sale as The Flavor of the Day, you make sure to get to the shop to pick them up. If you purchase two bottles monthly on the day they're designated as "The Flavor of the Day", you are saving $6 per bottle, per month. This equates to an annual savings of $144.
"Liking" our Facebook page is a great idea if you want to be kept in the loop of what's "The Flavor of the Day', but it's also good for other reasons. Often we post info on new products, new flavors, and articles about the vaping industry and about the politics involved in vaping.
Of course, "Liking" our Facebook Page isn't enough anymore, unfortunately. We'd also ask you to turn on notifications of our posts, so that you receive an alert on your phone that's we've made a post. Unfortunately, Facebook's algorithm that decides what posts you see in your newsfeed is not friendly toward businesses associated with "Tobacco Industry Related" goods & services. As a result, it is rare that more than 20 people are shown our "Flavor of the Day" post on any given day (we have 435 Likes). Turning on notifications will keep you in the know, and it will also help us in our battle with Facebook's algorithm.
Cloud 9 Membership (Paid Savings Club) Savings Opportunities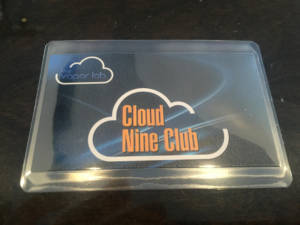 The Cloud 9 membership is The Vapor Lab's paid savings club. Unlike the free Savings Club that is available to everyone who signs-up, we elected to also have a paid savings club in order to help out those who go through a ton of juice and hardware. This is for the folks with the 300 Watts devices and huge tanks who go through a 120mL in a week.
The Cloud 9 Membership is $60 for 12 months of savings. This is not a calendar-based product; it starts on the day you purchase it and lasts exactly one year. It is an amount of money that will get your attention, but not high enough to where it's not affordable.
Cloud 9 Membership grants members a 10% savings on any day on all hardware in the store including mods, coils, wire, tanks, RDAs, etc. Additionally, membership gives you a 25% discount on all PG/VG base, flavors, and premium juice line flavors when purchased on Tuesdays or Wednesdays.
Let's look at Brian's vape product consumption to get an idea on his amount of savings through his Cloud 9 Membership. Brian goes through a Mod every 9-10 months. He likes to grab new and exciting products the day they come out, and normally buys two new tanks per year. He goes through one TF-V8 coil every 10 days or so and will vape through at least a 120mL of juice every 10 days, sometimes he'll also go through a 60 mL of a different flavor, depending on what's happening in his world.
Let's look at his retail cost of each item, each year:
45 120mL's of PG/VG base = $1,387
15 60mL's of PG/VG base = $390
72 bottles of flavor concentrate = $360
45 TF-V8 replacement coils = $315
1 to of the line mod = $119
2 top of the line tanks = $100
Total Annual Expense = $2,671
Now, lets assume Brian elects to take advantage of the Cloud 9 Membership and all it's savings opportunity. Let's see how the $60 annual membership affects his net costs:
45 120mL's of PG/VG base = $1,387 – 25% = $1.040
15 60mL's of PG/VG base = $390 – 25% = $293
72 bottles of flavor concentrate = $360 – 25% = $270
45 TF-V8 replacement coils = $315 – 10% = $284
1 top of the line mod = $119 – 10% = $107
2 top of the line tanks = $100 – 10% = $90
Cost of Membership = $60
Total Expense w/ Cloud 9 Membership = $2,144
$2,671 – $2,144  = $527
Total Net Savings With Cloud 9 Membership is $527 annually
Now again, someone who goes through only 12 60mLs of juice a year many not benefit greatly from this type of membership…that's why we have the free Savings Club. But, as you can see, it made a huge difference for Brian.
Conclusion:
By paying attention, doing just a little bit of planning, and completing the 5 action items stated at the start of this page, customers of The Vapor Lab can save as much as $1,100 annually. We are proud to offer these savings opportunities to our customers and hope as many as possible to take advantage of them. We're tried to make it as simple and easy as possible.