Premium Nic Salt
As with our other premium e-juice lines, the nic salts we carry are stocked based on customer recommendations and our own thorough testing to accommodate the needs of our customers who prefer pod systems.
Showing all 6 results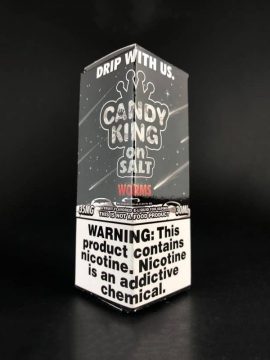 Salt Worms by Candy King on Salt - Harness the power of sour with Sour Worms e-liquid from Candy King on Salt. This super sour salt e-juice is a fragrant mix of ripe lemon, juicy orange, and sweet fruit flavors that taste just like sour gummy worms. You deserve to experience this best-selling vape-juice for yourself. Due to their high nicotine concentration, salt E-Liquids are not recommended for use with sub-ohm systems. **Warning: Not For Sub-Ohm Use** All 30mL Nic Salt bottles are available in 35 and 50 milligram levels.