Efest Lush Q4
$24.99
The Efest LUSH Q4 Charger is a quad slot charger which automatically charges at a rapid 2.0A charge with one battery, a 1.0A charge with two batteries and a 0.5A charge with three or four batteries. This Lush Q4 features a simple no button design with a battery life LED indicator light. This LED indicates that your battery is charging and when it's fully charged. Each slot is monitored independently to facilitate the most efficient charge. The Efest LUSH Q4 Charger features reverse polarity, short circuit, overcharge protection and many more safety features. This device is able to charge various types of 3.6V/3.7V lithium batteries commonly used in electronic cigarettes, flashlights, electric tools, and more.
4 bay charger

This device can charge 18650s, 20700s, 21700s, and 26650s

For customers with at least 2 sets of batteries
In stock
Only logged in customers who have purchased this product may leave a review.
You may also like…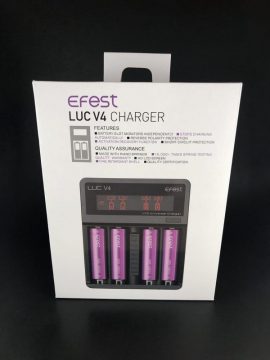 Efest LUC V4 is a high quality battery charger that features 4 charging channels and a large LCD charger, along with 4 built-in independent charging channels with reverse polarity protection, short circuit protection, over-current protection and zero voltage activation function. It is capable of automatically monitoring battery power and providing low battery alerts. LUC V4 charger is compatible with most 3.7V Li-ion or LiMn batteries (10440, 14500, 14650, 18500, 17670, 18350, 18650, 18700, 26500, 26650, etc.) It is capable of charging 15270 or 14250 batteries with spacers. 4 bay charger This device can charge 18650s, 20700s, 21700s, and 26650s For customers with at least 2 sets of batteries
Coil Master DIY Mini V2 Kit is the simplest version of DIY Kit. The DIY Kit Mini V2 Case is made from ABS material which has the advantages of corrosion resistance and high-temperature resistance. This new designed multi-functional screwdriver kit are manufactured with high-quality metals, high-heat resistant plastic materials, and elegantly organized in a durable porrtable carrying case. Included: 1 x Ceramic Tweezers 1 x Diagonal Stainless Tweezers 1 x Mini Diagonal Pliers 1 x Multi-function Screwdriver Body 1 x Stainless Steel Folding Scissors 4 x Screwdriver Winding Rods (2.0/2.5/3.0/3.5)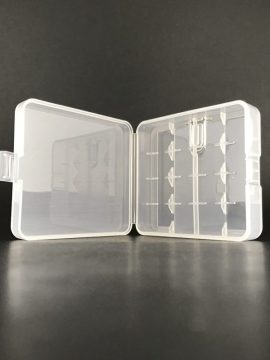 Keep your 18650 batteries safe and protected with a battery case.