Efest Soda Charger
$14.99
2 bay charger

Can charge 18650s and 20700s

Best for customers with one or two batteries
In stock
Description
The Efest Soda Charger is capable of simultaneously charging 2 batteries, with each of the 2 battery slots monitoring and charging independently. Safety features include over-voltage, over-discharging, short-circuit and reverse polarity protection. Adjust to rapid charger or normal charger. Charger for 3.7V rechargeable 10440/14500/14650/16340/16650/17650/17670/18350/18490/18500/18650 Li-ion battery Efest Model number: Efest Soda dual charger AC input Power AC 100~240V 50/60Hz DC input Power DC 12V 1A DC Output Power Dc 12V 1A 0.5 CC current 500m A±10% 1A CC current 1000m A±10% Auto cut-off current 4.23±0.05V CV cut-off current < 10% max current Standby current <20mA TC current(battery voltage 2-2.9V) 10% max current Activation current (battery voltage & l2V) 10m A~20 m A Maximum Output current 1A Battery output cut-off voltage 3.0±0.05V auto-recharge voltage 3.9±0.15V operation Temperature -40℃~+70℃ Storage Temperature 0℃~40℃.
2 bay charger

Can charge 18650s and 20700s

Best for customers with one or two batteries
Only logged in customers who have purchased this product may leave a review.
You may also like…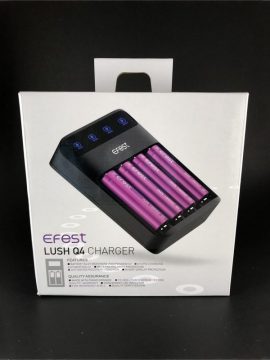 The Efest LUSH Q4 Charger is a quad slot charger which automatically charges at a rapid 2.0A charge with one battery, a 1.0A charge with two batteries and a 0.5A charge with three or four batteries. This Lush Q4 features a simple no button design with a battery life LED indicator light. This LED indicates that your battery is charging and when it's fully charged. Each slot is monitored independently to facilitate the most efficient charge. The Efest LUSH Q4 Charger features reverse polarity, short circuit, overcharge protection and many more safety features. This device is able to charge various types of 3.6V/3.7V lithium batteries commonly used in electronic cigarettes, flashlights, electric tools, and more. 4 bay charger This device can charge 18650s, 20700s, 21700s, and 26650s For customers with at least 2 sets of batteries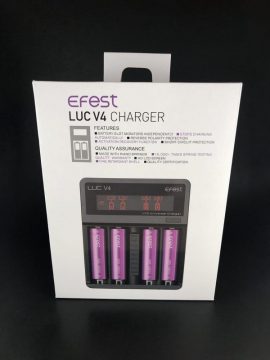 Efest LUC V4 is a high quality battery charger that features 4 charging channels and a large LCD charger, along with 4 built-in independent charging channels with reverse polarity protection, short circuit protection, over-current protection and zero voltage activation function. It is capable of automatically monitoring battery power and providing low battery alerts. LUC V4 charger is compatible with most 3.7V Li-ion or LiMn batteries (10440, 14500, 14650, 18500, 17670, 18350, 18650, 18700, 26500, 26650, etc.) It is capable of charging 15270 or 14250 batteries with spacers. 4 bay charger This device can charge 18650s, 20700s, 21700s, and 26650s For customers with at least 2 sets of batteries